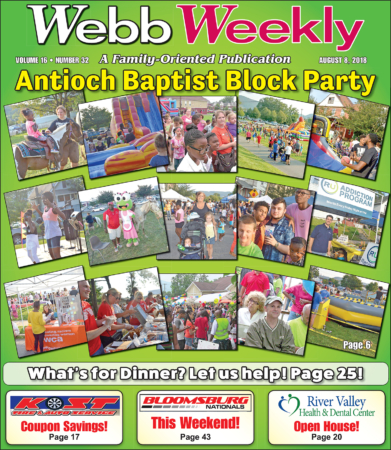 Antioch Baptist Church's motto is: "A church in the heart of the community with the community at heart." It is with this motto in mind that for the past 25 years the church has hosted an annual block party on its grounds at 514 High Street. They will be holding this always widely anticipated event
Antioch Baptist Church's motto is: "A church in the heart of the community with the community at heart." It is with this motto in mind that for the past 25 years the church has hosted an annual block party on its grounds at 514 High Street. They will be holding this always widely anticipated event for the 26th time this Wednesday, August 8.
This two-hour event (6 p.m. to 8 p.m.), which is a no-charge affair, is jam-packed with activities such as live Christian music, amusements, lots of food, public service booths to register people to vote, sign people up for physical checkups, etc. And, recently, dance contests and line dancing have been added!
The first block party in 1993 attracted approximately 500 people but has now exploded in numbers of more than 3,500 men, women and children of all races, ages who come from all socio-economic backgrounds, according to Barbara Voss, one of the block party organizers. What originated as a neighborhood event has now expanded into a community extravaganza with individuals eager, not only to attend, but to help out in any way possible.
The 1993 party consisted of a plate of food, a beverage and probably balloons and popcorn, but not much else. But each year after that initial party they slowly added additional activities to attract more attendees to the point where they now have continuous live entertainment for the entire two hours. They also have the attendance of approximately 10 to 15 human services agencies, some of which include: Habitat for Humanity, Housing Authority, Pregnancy Center, Pennsylvania Department of Health, the Lycoming County Department of Children and Youth, and AIDS Resource, just to name a few. They now also have recruiters from the local military recruitment center, the James V. Brown Library Bookmobile, local barbers who give haircuts and, as always, the Williamsport Fire and Police Departments.
"It was obvious that by the time we entered the following decade it was time to continue to expand," Voss told Webb Weekly. "By the early 2000s, we began adding inflatable bounce toys, pony rides, carnival games, a petting zoo, hay ride, face-painting, and even the Williamsport Trolley. We also expanded our food selections from just a one-plate menu to a variety of foods including Italian ice, nachos, cakes, pies and cookies, hot dogs, snack foods, as well as ethnic food booths such as the Spanish booth, Italian, Caribbean, soul food, etc. And, for several years now First United Methodist Church has joined us serving their perogies. There is even a booth where individuals can go and ask for prayer. As stated earlier, dance contests are a regular feature, and to that, we've added game show contests where winners receive prizes".
During the event's early years when the attendance numbers were manageable, they were relegated to just Antioch members and friends of Antioch to volunteer to do everything from setting up, operating and/or assisting at one of the many game or food stands, to assisting with dismantling and clean-up. They now have members of the community contacting them to see what they can do to help.
They have had judges, the Mayor, school teachers and principals, candidates running for public office, Antioch family members who fly or drive in from different states to help, and last but certainly not least, the Susquehanna Health System (UPMC) who opened its arms and heart to the event. The System has removed several homes around their facility, which has enabled Antioch to spread out onto their property. They have even allowed parking on their facility's parking lots.
For many years, Antioch paid whatever was necessary to continue to ensure that we would host a successful block party. And, there was a time when some church members would go around town asking for donations of gift cards, or anything else we could use as prizes.
"This year will mark our 26th Annual Block Party, and we have reached a point where area businesses are donating to us with checks or whatever tangible items we need without any soliciting on our part," Voss said. "This includes beverages and snacks, items of clothing, toys and games, etc. Appliance stores lend us freezers and refrigerators for that day, as well as a company who lends us generators for the many areas where electricity is needed. Some of those who make a living at bringing their concessions to events such as this will only charge us the bare minimum because they enjoy coming each year and are appreciative at how Antioch is serving the community".
She said the most remarkable activities they have witnessed in this last decade is that 3,500 people of so many different backgrounds can gather in one area and there are never, ever any problems. "One time we had a lost child; once someone needed a bandage for a cut or scrape (NOTE: There is also a First-Aid booth). One year a dog from one of the neighboring houses escaped, ran onto the street where the hayride was taking place and bit one of the horses. Fortunately, no passengers were injured, and unbelievably, this incident made the evening news!! The fact that this incredibly successful block party, which had taken place for approximately 18 years at the time had never received TV news coverage that I can recall. We have also been amazed at how so many people arrive from all directions to the point where it is wall-to-wall people who manage to enjoy themselves and don't care how crowded it is. They only have had weather-related problems perhaps three times since 1993, and these occurred in the last three or four years. But, as of this date they have never had to use their rain date (which would be on Thursday)."
Voss cited one story that illustrates the appeal of this event. About two or three years ago Pastor Sam Washington received the most heartwarming story from a senior citizen couple. They stated that they were on a very fixed income, so consequently, extra income to go to a movie or have a meal out was just not possible. However, they look forward to Antioch's block party each year because it's the one time they can get out, have fun, eat out and it doesn't cost them anything.
Posts Carousel