In Sports
March 28, 2018
924 Views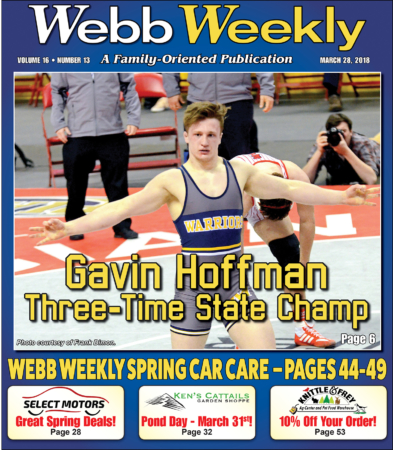 As Montoursville's Luke Frey won his final match to claim a State Championship in wrestling, a six-year-old fan cheered from the stands. The championship sparked something deep inside the young wrestler watching with his parents and brother as his idol went to the center of the mat to get his hand raised. Years later that
As Montoursville's Luke Frey won his final match to claim a State Championship in wrestling, a six-year-old fan cheered from the stands.
The championship sparked something deep inside the young wrestler watching with his parents and brother as his idol went to the center of the mat to get his hand raised. Years later that fan became the first wrestler in since Line Mountain's Max Shingara to have his hand raised three consecutive times to close out the season.
With new fans seeing him for the first time, family and friends cheering, and young wrestlers possibly gaining inspiration to accomplish even more, Montoursville's Gavin Hoffman became a three-time Class AA Champion at 195 pounds recently. He earned a technical fall over his final opponent, capping an undefeated season in the best way possible.
"It's like a whole accumulation of the work I've put in since I was a little kid," Hoffman said. "Just to finish it off and achieving my goals that I set after my freshman year and get three state titles feels like all the work I put in paid off. It made me feel like everything I sacrificed was worth it."
Hoffman, who committed to Ohio State University, never forgot that moment at the Hershey Center and used the motivation to become one of the top wrestlers in the Nation. Every time he stepped on the mat throughout his career he would imagine a young wrestler learning from that moment.
Hoffman would picture a young fan watching him each and every time he stepped on the mat for a match. He imaged through his high school career that one young wrestler was aspiring to do even greater things.
"I spoke with Luke (Frey), and he congratulated me on becoming the next great wrestler at Montoursville," Hoffman said. "I hope I can pass that down to a little kid growing up now and they can do just as good as me or even better. They can go on to break all the records I've set."
Hoffman's records will likely be hanging in the wrestling rafters for a long, long time. Hoffman finished sixth during his freshman season. It would be the last time he ended a high school year with a loss. He went on to win the state as a sophomore, junior, and finally as a senior.
Despite all the success and chances to gain a swelled ego, Hoffman never gave into that temptation. He continued to work after the first state title and pushed through to the end, never changing his work ethic. At the same time, he never forgot what it was like to be that little kid in the stands cheering.
"Going out to wrestle I'm excited about competing, but I'm more excited about going up to little kids after the match and signing autographs and getting pictures," Hoffman said. "That can outweigh anything I've won ever in my life. Seeing the smiles on the kids' faces when I come up to them means the most to me, because at the end of the day people will forget about how you wrestled on the mat, but they won't forget how you made them feel."
Hoffman's first two matches were the perfect example of how much work he put into preparing for his final tournament. The first two matches took less than two minutes as he stretched his undefeated mark to 43 wins with two consecutive pins.
The final two matches were won by way of technical fall. Hoffman defeated Brady Herr of Newport 17-1 to kick off the final run to his third consecutive state championship. He then defeated Chase Dull of Bermudian Springs to claim the championship.
"It was a good feeling after I got that first state title, but it made me want to go even harder the next two years," Hoffman said. "It made me want to separate from the other kids and show them how good I could be."
Hoffman's drive to show the wrestling world exactly what type of competitor he was helped him through the tough days. His coach Jamie Yonkin, who has coached Hoffman all four years, was the other motivating factor throughout his run.
"I just tried to live in the moment," Hoffman said. "My coaches have been a huge part of my success. Just to have them there from the start and be there with me to the end of my career was huge. You can't help but to feel excited."
The moment was huge for Hoffman, but it was one he had prepared to live through. At a young age, Hoffman was beginning his training whether he knew it or not.
"I always had talent, but at the time I didn't know where it came from," Hoffman said. "Now looking back it has a lot to do with my brother Garett. He would use me as a practice partner when I was three or four years old. I didn't know at the time, but that was making me so much better. He built all this stuff in. Mental toughness, discipline, and that's what I'm truly grateful for him being a great older brother."
Garrett, fresh off of surgery, couldn't be at Hershey as his younger brother closed in on history. He was there in spirit throughout the entire three-day journey. He immediately called his brother after the win and congratulated him to no end.
The small little brother that Garrett used to throw around for practice matured into a three-time state champion. Hoffman immediately thought of those days when he was the smaller wrestler and how much it shaped him throughout the years.
"Garrett had always been there for me," Hoffman said. "We are each other's greatest supporters. When I got home, I could tell he was excited for me. He's never won a state title, but I can really say he's a huge reason I've had success. Everything I've ever accomplished on the mat is because of him. He's been a great role model and great brother for me."
Hoffman did have to deal with devastation throughout his run to becoming the best wrestler in the county. His original goal was to end the season four consecutive times as a state champion. A lofty goal, but one Hoffman started to feel more confident about as he matured and grew as a wrestler.
Then, as quickly as he set the goal, it all came crashing down with a sixth-place finish at his first PIAA State Tournament. One year into his four-year plan and Hoffman was hit with a moment of adversity.
"At first I wanted to win four," Hoffman said. "I thought I had the capability of doing that. My freshman year there was kind of a setback, but I had to refocus and get my mind on the next best thing. I'm proud of my high school career of how it turned out."
His goals were refocused and started with simply rebounding after his first state meet.
Hoffman hit the gym and started to learn more about the workings of wrestling. He learned how to eat right, how to manage time, and how to keep his body functioning at a high level. In other words, Hoffman matured as a person and wrestler.
"I took sixth my freshman year, but I had to grow up a lot," Hoffman said. "I had to come to terms with that goal not being something I could achieve. I realized there was so much more out there for me. I trained with that in mind. I could go and win three state titles and do anything I put my mind to really."
As a freshman, Hoffman opened up the tournament with a 5-4 decision. He then fell 3-0 before picking up another win and loss in the consultation bracket. He finished sixth, but immediately reset his goals. The time for work started moments after a loss would end his high school season for the last time.
"It's a dream I've had since I was six or seven years old," Hoffman said. "Going to the state tournament my first time, seeing kids win a state title. That was a dream I've had since a young age. After seeing that I knew that's what I wanted to do."