In Sports
January 31, 2018
798 Views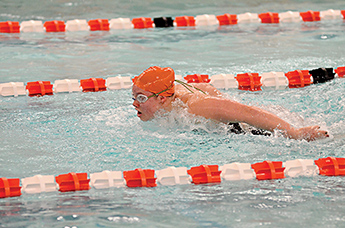 Signs were lining the pool and an unusually large crowd of students, also holding signs, shuffled into Jersey Shore's natatorium. The scene was courtesy of Jersey Shore's Emma Butzler, who has become one of the school's most decorated swimmers. As she approached the team's meet against Lewisburg, she knew a win in an individual race
Signs were lining the pool and an unusually large crowd of students, also holding signs, shuffled into Jersey Shore's natatorium.
The scene was courtesy of Jersey Shore's Emma Butzler, who has become one of the school's most decorated swimmers. As she approached the team's meet against Lewisburg, she knew a win in an individual race would send the crowd and team into a frenzy as it would be her 100th.
Butzler didn't make the crowd wait long. After the 200 Medley Relay opened the meet, Butzler got ready to swim the 200 Free. Within the first 30 seconds of the race, it was clear Butzler was going to capture the rare number. Butzler won with a time of 2:12.36.
"Around my sophomore year, my parents told me they were keeping track of wins for me," Butzler said. "I told them not to tell me. I'm really a mental person, and I didn't want to know. My parents told me I would be close this year, but it seemed I would have to win states."
Butzler, who qualified for States as a freshman, wouldn't have to worry about reaching states to accomplish the goal. Even though, with some of her performances throughout the season, she is on pace to not only reach states, but contend for a spot on the podium.
She reached the podium during last year's State meet at Bucknell University. She posted a 57.03 in the 100 Fly to finish third in the event. Kyra Manson and Paige Mikesell were the only other AA swimmers in the State to top Butzler. Manson has graduated, and Mikesell should be back for another season to compete with Butzler.
That will all come in due time. As for her record, Butzler became the lone Jersey Shore swimmer to accomplish the feat in the last ten years. She came on as a freshman and immediately had an impact on the team, winning events and helping to change the culture of swimming around the Bulldogs' athletic programs.
"I was surprised when my mom told me after my 99th win," Butzler said. "She said the 100th would probably come against Lewisburg. I was surprised and excited. If she didn't tell me it was 100, I would definitely have been surprised."
Butzler had an edge coming into the meet. She has been nearly unbeatable in her freestyle and butterfly events since joining Jersey Shore's swim team as a freshman. Tuesday didn't disappoint.
She was nearly halfway through her final turn before any swimmer even started theirs. Butzler has been that good throughout her career, rarely being challenged until the District and State level.
"She was more nervous about the relays than not getting the 100th win," Jersey Shore coach Jenna Brooks said. "She was definitely worried about the relay, but nothing out of the ordinary for her. She just goes out and does what she normally does."
Butzler went out and won two individual events for Jersey Shore. She also helped with relays. Butzler will be a must see at the District and State meets. Her work ethic and commitment to her team have helped grow the program. The individual awards and accolades are starting to come in for Butzler and should continue all the way through to the State meet.