December 27, 2017
780 Views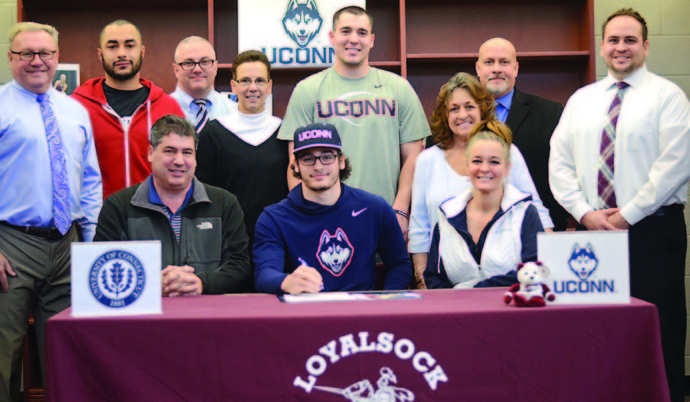 The true measure of a person can be seen by the people they impact throughout life. As Hunter Webb signed his letter of intent to attend Connecticut University he was surrounded by friends, family, coaches, and teachers, who all wanted to share one of the biggest moments in his life. On Tuesday morning of last
The true measure of a person can be seen by the people they impact throughout life.
As Hunter Webb signed his letter of intent to attend Connecticut University he was surrounded by friends, family, coaches, and teachers, who all wanted to share one of the biggest moments in his life. On Tuesday morning of last week Webb signed his letter and made it official.
"It's definitely a weight off the shoulders," Webb said of signing his letter of intent. "It's always nice to know where you are going and to be going to a program like UConn is definitely an awe.some feeling."
Webb's signing day was more a celebration. Webb was swarmed throughout the process as he posed for multiple photos, signing his "letter" enough times to run out of space.
"You dream about days like these," Webb said. "To finally be living that dream and turning dreams into reality through hard work is what it's all about."
Webb has enjoyed an entire lifetime of highlights throughout his high school career. He was recently selected to the All-State football team after another outstanding season.
In 2017, Webb rushed for 359 yards, scoring six touchdowns in the process. He also had a knack for making big plays. In Loyalsock's opening game of the season, a 43-41 loss to Mount Carmel, Webb only managed to pull down one reception. That reception ended up going 54 yards for a touchdown, sparking a Lancers comeback that would ultimately fall a little short.
In Loyalsock's opening round game of the District 4 playoffs, Loyalsock got be.hind quickly, but an 89-yard run from Webb helped the Lancers complete a memorable comeback over the Dragons. Webb ended that game with 118 rushing yards as the Lancers overcame a 21-point deficit to win 35-24.
On defense, he was even better. Webb finished the season with 179 tackles to lead the Lancers. On three separate occasions he posted 20 or more tackles. In the Lancer's opening game, he posted 18 tackles. A game later he posted his first 20 tackle game in a three-point loss to Central Columbia. He also finished with 20 tackles against South Williams.port and once again in the playoffs against Lewisburg.
The true part of the journey begins for Webb as he will have to balance graduation and multiple sports as he closes out his high school career.
"As an athlete everybody has that end goal and my end goal was to finally get here, but I know there's still work to be done," Webb said. "With the early signing period I'll be able to get the weight lifting program and everything like that. It's fantastic and definitely worthwhile doing. It's going to be fun."